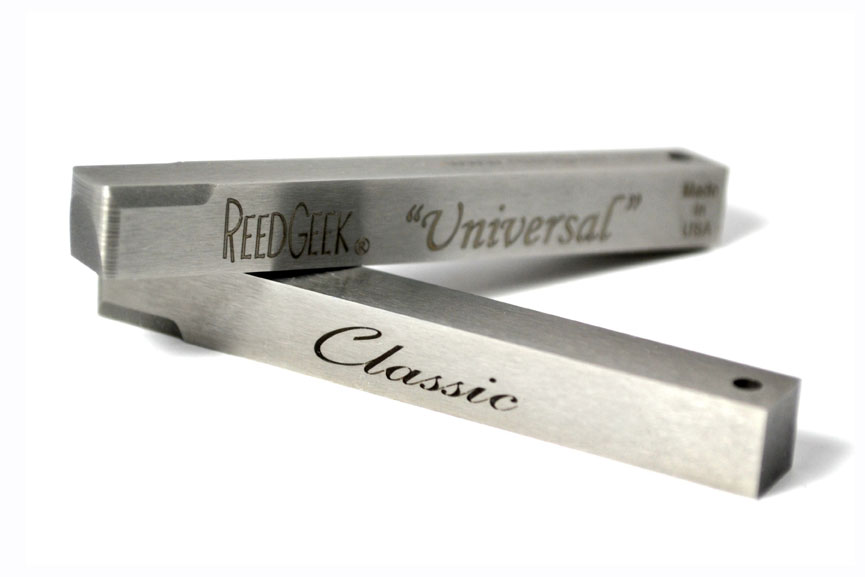 What's up with all the different ReedGeek tools? They all kind of look the same, and they all seem to do the same thing. So what gives?
ReedGeek's rise in popularity, and the reason for its design overall, was the fact that it could function like a reed knife, but lacked a dedicated "blade" which is banned from carry-on luggage during air travel.
Side note: I have twice traveled by air when my checked luggage didn't arrive when I did. Once was in the States, and it arrived a few hours later. The other was when traveling to Europe for a festival. I was without personal belongs and my reed tools for at least two days. Imagine if I'd had a concert within that time frame….oh, the horrors!
So the ReedGeek can be taken on a plane in your case, purse, or carry-on luggage. And it can still do the refining, detail work that a knife can do. This is a win for those who travel frequently! So why would you want one?
Are you a student in a public school? A private teacher or college student who may have to pass through metal detectors to teach in a school? Is simply carrying a knife problematic for another reason?
For students, simply carrying a knife may be against rules because it's considered aggressive and combative. And you can't hide it if you must pass through metal detectors. A friendly band director might speak up for you and explain why it's necessary, but that may not be possible.
So this covers who might benefit from owning a ReedGeek, and why. But which one?
At Hodge Products, Inc., we carry 5 different ReedGeek products.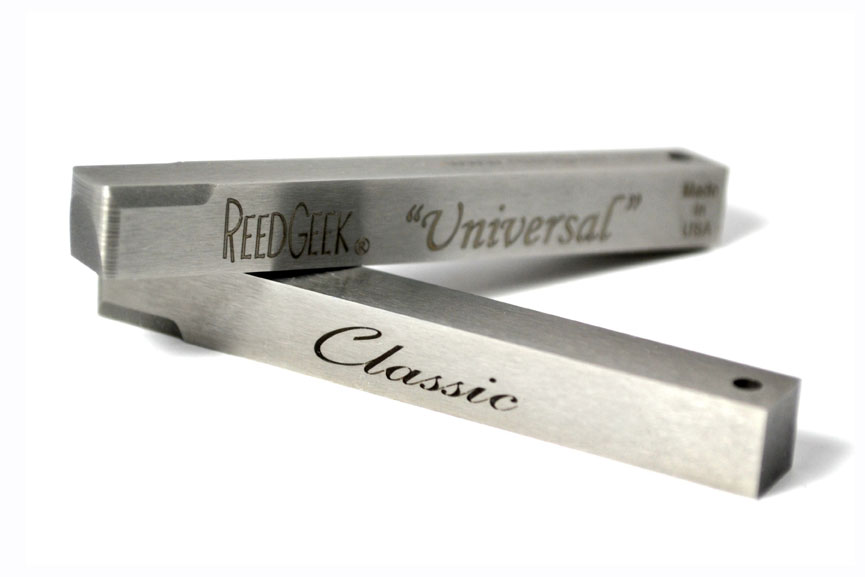 First there is the ReedGeek "Classic." Here's what it says on the product's website:
"The 'Geek that started it all! The ReedGeek "Classic" (or Universal) is machined with four very crisp planing edges. This makes it exceptional for maintaining (single) reed flatness and removing cane from all reeds (single & double) rapidly and precisely. Other features include two rail adjustors (the relief angles), the "pencil eraser" radius tip for pin-point precision adjustments, and a square back for scraping and profiling. With an extremely high Rockwell hardness, the ReedGeek "Classic" now undergoes a proprietary Chromium medical-grade process to enhance corrosion-resistance and edge-retention longevity. With all of these indispensable features, the "Classic" will give its owner consistently great-playing reeds!" See the picture.
This original ReedGeek is marked "Universal" now being that it can easily scrape any kind of reed. Each corner can function as a long edge cutting surface, but there are at least two different levels of sharpness on the edges. One end has a slight angle removed to do some tapered work on two edges. That end also has a U-shaped section that can smooth bumps as well as remove some material. This ReedGeek can be used by all single and double reed players. The newer Classic Universal model is a black color rather than silver/steel color in the picture due to the new Chromium medical-grade process it now undergoes. It comes in a plastic tube with a small neoprene sleeve.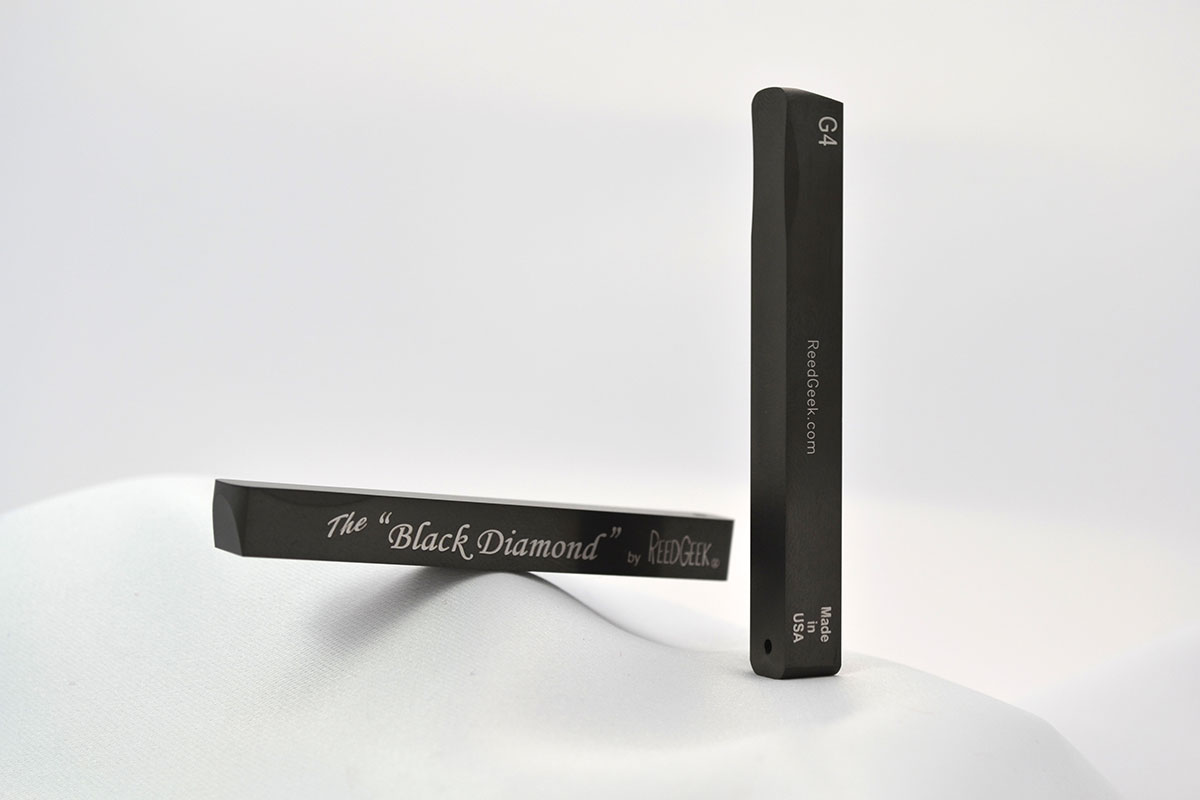 According to the ReedGeek website, "It utilizes state of the art, 100% USA alloy with very high vanadium carbide content for exceptionally good wear resistance. With our beautiful 'Black Diamond' wear finish fostering a smooth 'buttery' glide to the cut, the G4 excels on both natural cane and all synthetic reeds. Exciting features include a newly designed length (longer) with a comfortably rounded back scraper (for further adjustment options), a radius tip for precision work and two contoured and curved rail bevels (specially designed to profile rails and re-contour the spine & heart of both single and double reeds). With advanced profiling abilities such as these, the G4 is a must for every serious reed player!" The Black Diamond model was the first in the ReedGeek line intended to be useful for adjusting polymer synthetic reeds.
The angled surfaces of the G4 are deeper and longer than the "Universal" and the entire length is longer. It also has many similarities to the DoubleGeek (discussed later), minus the end angles and without the options of handles. This is a popular item among our ReedGeek offerings. It comes in a plastic tube and is included with a neoprene sleeve.
This is the ReedGeek that is marketed especially for synthetic reeds. Think Légère reeds, even the newer oboe and bassoon reeds. This is where ReedGeek can really shine. Légère reeds are made from a proprietary polymer and conventional knives do NOT work with them. A knife can remove material, but it will not come off smoothly or evenly. The result will be catastrophic to your $145 (Hodge pricing) reed. Though Légère's single reeds cost less, available online in the $20-30 range per reed, are still not cheap. No one would be happy ruining an expensive reed like this with a knife. Most of the ReedGeek products can successfully be used to work on a synthetic reed. But there are a few features that set "The Bullet" apart. From their website, here's what is official on this one:
"ReedGeek's newest and most advanced tool to date, offers its user ground breaking advances to reed adjustment and maintenance. It is the most effective tool for the adjustment of synthetic polymer reeds, both single and double, not to mention its effortless cut on natural cane. Utilizing advanced aerospace diamond-like alloys, the ReedGeek bullet exhibits an edge of 94 RC hardness and is machined to tolerances closer than virtually any reed or woodworking tool on the market today. This precision allows double reed players to adjust tip contours to achieve maximum vibration without damage to the reed or its tip. With a built-in shank file, for burnishing and smoothing, every surface of the Bullet can be used for great efficiency. A stand alone, handle-less tool."
Just slightly longer in design, there are two major changes. 1) The knife edge portion is only about half as long as that on the Universal and G4 models. The rest of the length has a short transition area and becomes round. 2) It is also heavier.
On the straight/square end, there are some curved (radius) cutting edges that are intended to help address the spine on double reeds, an innovation most knives cannot match. While the cutting surfaces seem to be similar to the other designs, the rounded part is scored all the way around and can function like a file as well as a grip.
Instead of only being for material removal, you can also file areas on the reed smooth and blend from one section of the reed to another. For the ReedGeek, this is a game changer! Thus it can function as both a knife and a file or sandpaper in one tool. Though carrying sandpaper is not hard, it's nice to know that you can use the ReedGeek Bullet for more than one function without even needing to put anything down! This product comes with a plastic tube, and the lid fits around the round file/handle of the tool.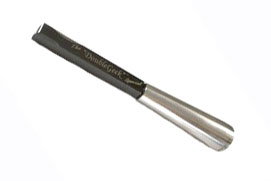 The fourth option we carry is the "DoubleGeek" GEN2. Though it can be used by anyone who would use any of the other ReedGeek options, this seems targeted at double reed players because we use knives. The defining characteristic about the DoubleGeek is that a handle is included...two handles, in fact. There is a 1.5 inch handle made of plastic and a metal handle just longer than 2.5 inches. Each handle has a screw to insert it onto the ReedGeek tool itself, so the length is just longer than my measurements.
The substantial differences between the two handles are length and weight, but directly on the product's website there is a third option: the shorter handle made of metal. These handles allow the tool to be used in the hand much more like a knife. The choice also allows you to be closer to your work or a bit further back, based on what you like in terms of length and weight, as well as material. For quick comparison, the DoubleGeek appears to be a modified Black Diamond with the handle options. Here's what the product's website says on this model: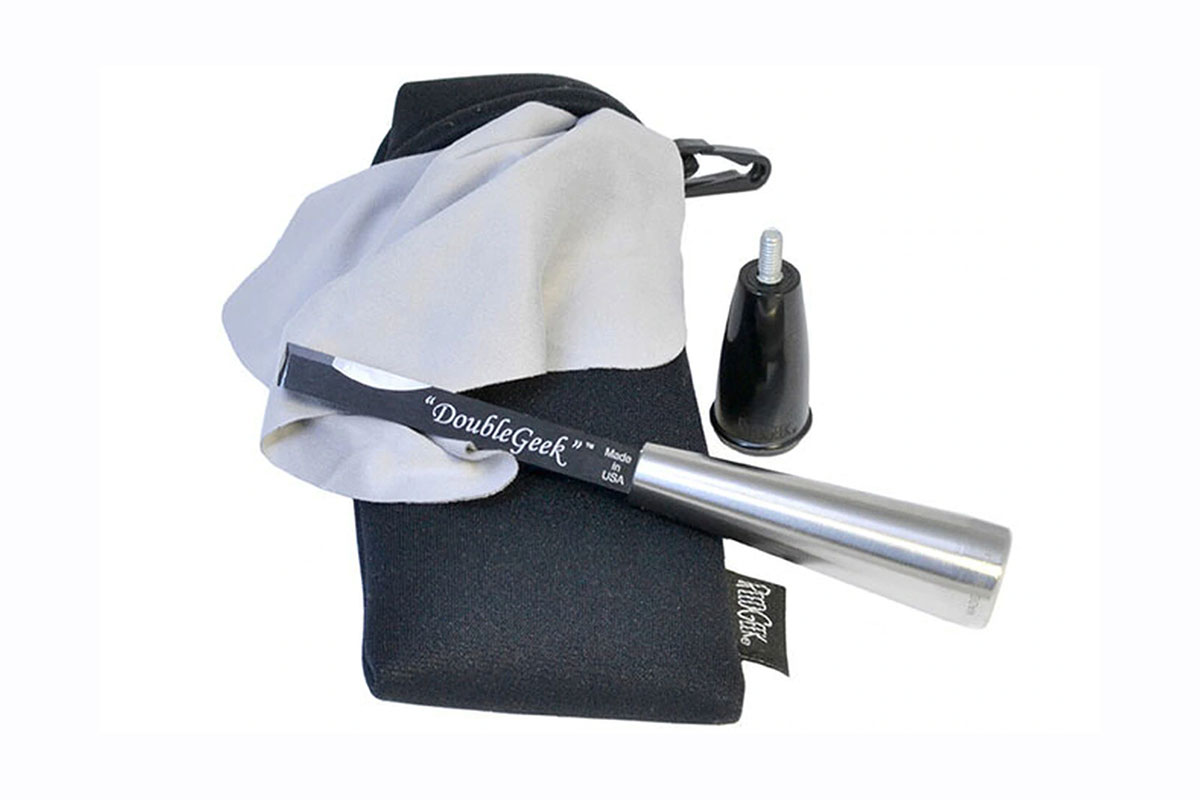 "In addition to implementing the wildly successful Universal tool's features, the GEN2 set is engineered with two oversized bevels allowing double reed players to fine tune reed spines, corners & tips with efficiency and ease (12 unique cutting surfaces in all). Like the G4, the DoubleGeek GEN2 is available in our Black Diamond wear finish providing refinement of the cut on both natural cane and synthetic reeds. The GEN2 set is encased in a deluxe, proprietary neoprene bag with a sewn-in microfiber cleaning cloth, a water tight case. For added leverage and familiarity in the hand the set includes a 3 inch stainless steel handle and a small black palm handle, both threaded for easy attachment to the DoubleGeek."
Of note, based on the videos included at ReedGeek's website, www.reedgeek.com, a slight but significant modification on the DoubleGeek is that it has the relief angles on two edges. But they shift into the radius edges for easier blending and spine and tip work. None of the other ReedGeek tools I've seen have combined the cutting surfaces in this way. It comes included with a neoprene holding bag, and the bag has a stitched-in cleaning cloth, and both handles.
Concluding Thoughts
All things considered, any of the ReedGeek tools could be very well used in adjusting your reeds, single or double. They deserve a place in your arsenal of tools if you plan to travel much by air, especially. The Black Diamond and The Bullet are the best of the lineup for adjusting polymer (plastic) reeds, but can also work on cane reeds very effectively. I own a Classic ReedGeek, though I am more proficient with knives. My personal preference would be one with handles, but that's because I like knives and they have handles. But ultimately it all comes down to you and your preference.
All of the ReedGeek tools are designed for either left- or right-handed use. With no burr to worry about, they can be used in forward and backward strokes. And you don't have to sharpen them! The learning curve to use these tools is reasonable and likely minimal. And again, these are perfect if you do a lot of traveling or need a tool at school that is not a knife. You won't go wrong with a purchase of any of these products!