Product Description
Shapton Compact Lapping Plate and Powders
Shapton Compact Lapping Plate and Powders
The compact lapping plate comes with coarse and medium lapping powders. In order to keep the Shapton Coarse Grit and Medium Grit Stones flat and clean, we suggest the Shapton Compact Lapping Plate with Lapping Powders. Shapton stones have been carefully engineered to resist "loading up" with steel particles, however, it can still happen, especially if the stone is not used with water. Lapping keeps the stones clean and flat. Clean stones work more efficiently, and flat stones help to maintain a more consistent blade shape. Coarse stones need lapping more often than fine stones. Depending on the condition of the knives being sharpened, a coarse stone may need lapping every ten knife sharpenings or so. A finer stone will last considerably longer. Extra lapping powder and Fine Lapping Powder can be purchased separately. All types of ceramic stones can be lapped using this lapping plate with appropriate powders. This plate measures 4"x10".
The surface of NAORU is covered with grooves laid out in a geometrical pattern based on the principles of physics. The grooves increase the synergy between the plate and the lapping powders supplied with it, and also improve speed and accuracy when flattening any roughness on a sharpening stone.
Choose which lapping powders to use - coarse, medium or fine (sold separately) - according to the grit of the stone to be flattened.
Specifications
Dimensions:250 x 101 x 28mm
Weight:approx. 2,600g
Attached Lapping Powders:Coarse and Medium, each 1 plastic bottle
Usage Instructions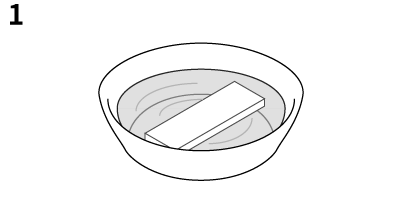 The stones you are intending to lap should be immersed in water for 2 to 3 minutes before starting work on them.
When lapping non-Shapton stones, you should ensure the stones absorb plenty of water first.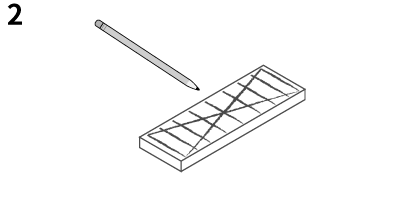 As a guide, use a pencil to draw a grid
on the stone surface to be flattened.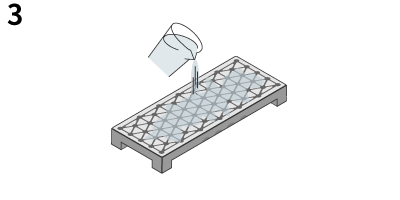 Place the NAORU lapping plate somewhere stable.
Apply enough water to permeate the whole plate.
If any water is left on the surface,
the powder may get washed away.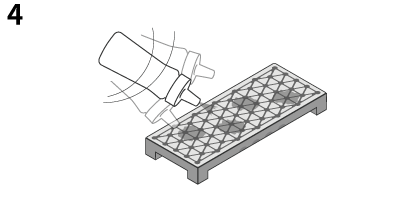 Sprinkle a little powder onto 3 or 4 places on the plate,
then rub it gently with a stone using a circular motion so that the powder gets distributed evenly across the plate.

Place the uneven surface of the stone requiring lapping onto the plate, and slide it backwards and forwards as shown in ① below,
then diagonally backwards and forwards as in ② and ③.
Make sure that you use the whole plate.
As you slide the stone to and fro, it may start to feel sticky or gooey, in which case you should add a little water.
Conversely, if you add too much water it may start to feel smooth or slippery, in which case you should add some more powder.
Get this balance right and you will be able to use the plate effectively without wasting powder.
Parts where the lines get erased show where the lapping plate has made contact, i.e. where flattening has been performed correctly.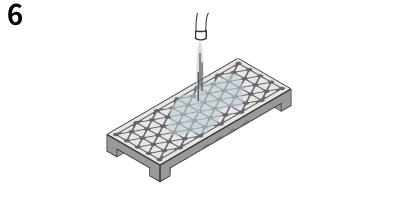 When you have finished lapping the stone,
wash the plate off until it is clean, and allow it to dry.
Even if the NAORU appears to 'rust' during storage,
that will not affect its performance.
Lapping Powders
The quality of the finish you obtain on the sharpening stone surface will vary depending on the type of powder used, so be sure you choose the right powder for the particular stone you will be lapping.
For sharpening stones of 40 microns or above (320 or below), use coarse powder.
For stones of 4 to 30 microns (500 to 3000), you can use coarse powder initially if the stone is quite uneven, to scrape it roughly, but then use medium powder to relap it.
Normally only medium powder is needed.
For stones of less than 4 microns (4000 and above), you can use medium powder initially if the stone is quite uneven, to scrape it, but then use fine powder to relap it.
Normally only fine powder is needed.
* Be sure to wash the plate and sharpening stone well each time you change to a different type of powder.
* If you apply a rough finish to the surface of a sharpening stone of less than 4 microns (4000 or above), you will not be able to harness the stone's full potential, and will be unable to give your blades their intended finish.
Always lap such a stone with a fine powder at the end, to produce a mirror-like finish, before you start sharpening.
* Fine powders are sold separately.
Product Videos
Custom Field
Product Reviews