Video Courses and E-Books
Video Courses and eBooks
There are now two video courses being offered by Jennifer Stucki on oboe reed making. Click on the image links below to view and sign up. HALF PRICE SALE GOING ON NOW!
A Complete Guide to Oboe Reed Making
by Jennifer Stucki
Advanced Oboe Reed Making
by Jennifer Stucki
__________________________________________________________________________________
iBook - click on the title to get a copy from iTunes for only $24.99
With Dr. Nancy Ambrose King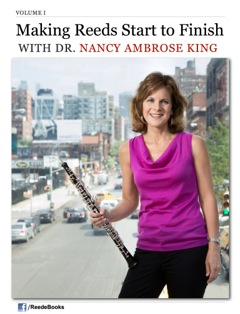 Description
"Making Reeds Start to Finish" is a series focused on the specialized craft of reed making which has traditionally been passed down from teacher to student in the context of a private lesson.

Optimized for the iPad and any Mac (Running OS 10.9 or later), the series offers reed making students from all around, a glimpse into the processes, techniques and tools used by the masters of this craft.
_____________________________________________________________________________
eBook - click on the title to get a copy from the author's website
by Joseph Shalita
This book teaches a very typical "Philadelphia" style of reed making that was first developed by Marcel Tabuteau of the Philadelphia Orchestra in the early 1900′s. This style has developed into what is known as the "American" style characterized by the long scrape.
This 116 page, step-by-step manual, teaches you not only how to scrape the reed, but also how to honestly evaluate it. Because there is more than one way of going about making a reed, several different methods of reed making are covered in the book.
Over 80 pictures and graphics are also used to help explain the reed making process.
There are also sound clips embedded into the eBook of reed crows. The crow of the reed is the most important information source we have when scraping the cane, so it is important to hear and learn what the crow should sound like.
Here are some of the topics which are covered in the eBook:
How to look at and evaluate the reed objectively.
How to balance a reed.
How to use the crow of the reed to tell you what to do.
How to make your air, embouchure, and reed work together.
How to make reeds at high altitudes.
How to systematize your reed making to obtain more consistent results.
How to stop worrying about reeds!
__________________________________________________________________________
eBook - click on the title to sign up on the author's website for $39.00
by Joseph Shalita
Discover How To Quickly, Consistently and Easily Finish American Long Scrape Oboe Reeds!
Learn to Analyze The Reed Properly
This eBook and video series will guide you through the process of analyzing what the reed needs to function properly.
Learn How to End Up With Consistent Predictable Results
Stop scraping blindly all over the place. You will learn how to focus in on what the reed needs.
A 23 Page eBook complete with photos and detailed images showing you a structured method for analyzing the oboe reed and finishing it.
18 videos showing you exactly where to scrape in order to refine the reed and improve response, pitch and stability ultimately ending with a beautiful functional reed that is a pleasure to play on.
A free lifetime membership to the brand new Making Oboe Reeds Academy where you will meet and interact with other oboists from around the world complete with members only content and forums.
Members only oboe reed discussion groups
60 day no-questions-asked money back guarantee.