Categories
Categories
Brands
Brands
Shop by Price
Shop by Price
Books and Videos
This category has books and videos about double reed playing, reed making, and instrument repair. The following two items are available by clicking on the links provided. Please scroll down for items available on this website.
Video Course
A Complete Guide to Oboe Reed Making
by Jennifer Stucki
There is now a new video course being offered by Jennifer Stucki on oboe reed making. Click on the link below and sign up for a free trial.
iBook - click on the title to get a copy from iTunes
With Dr. Nancy Ambrose King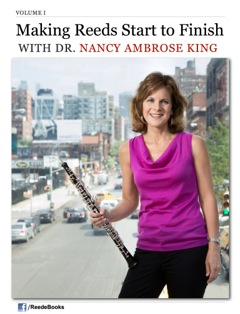 Description
"Making Reeds Start to Finish" is a series focused on the specialized craft of reed making which has traditionally been passed down from teacher to student in the context of a private lesson.

Optimized for the iPad and any Mac (Running OS 10.9 or later), the series offers reed making students from all around, a glimpse into the processes, techniques and tools used by the masters of this craft.